Fortinet Products, Services and Information.

High Performance Network Security Solutions.
FortiGate utilize purpose-built security processors and threat intelligence security services from AI-powered FortiGuard labs to deliver top-rated protection, high performance inspection of clear-texted and encrypted traffic. Next-generation firewalls reduce cost and complexity with full visibility into applications, users and networks and provides best of breed security. As an integral part of the Fortinet Security Fabric next-generation firewalls can communicate within Fortinet's comprehensive security portfolio as well as third-party security solutions in a multivendor environment.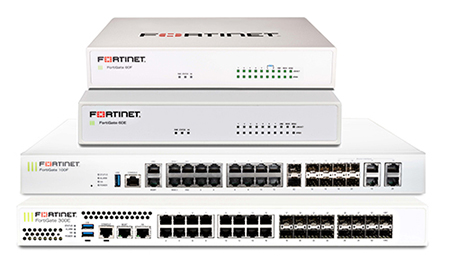 FortiGate Entry Level Firewalls
To be effective against today's evolving threat landscape, your security solution needs to reliably control network traffic through awareness of applications, users, and content. To be efficient, it needs to be consolidated, simple to manage, and easily scalable.