Fortinet FortiSwitch Cloud

Manage the Lifecycle of your Standalone FortiSwitch Deployment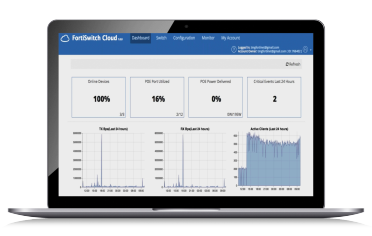 Fortinet FortiSwitch Cloud
Fortinet FortiSwitch Cloud Management License FortiSwitch Cloud Management License subscription
FortiSwitch Cloud Management License 1 Year FortiSwitch Cloud Management License subscription
#FC-10-WMSC1-190-02-12
List Price: $48.00
Our Price: $47.00
FortiSwitch Cloud Management License 3 Year FortiSwitch Cloud Management License subscription
#FC-10-WMSC1-190-02-36
List Price: $144.00
Our Price: $140.00
FortiSwitch Cloud Management License 5 Year FortiSwitch Cloud Management License subscription
#FC-10-WMSC1-190-02-60
List Price: $239.00
Our Price: $233.00
Click here to jump to more pricing!

Please Note: All Prices are Inclusive of GST
Managing stand-alone Ethernet switches can be a logistical challenge. Network administrators need tools that can centrally deploy, monitor, troubleshoot and optimize Ethernet networks. FortiSwitch Cloud management centralizes the lifecycle management of stand-alone FortiSwitch Ethernet switches with a simple, intuitive, easy to use cloud interface accessible from anywhere.
FortiSwitch
FortiSwitch is a secure, simple and scalable family of Ethernet switches offered by Fortinet. Its portfolio supports applications from desktop to data center aggregation. FortiSwitch offers two deployment options; 1) FortiLink mode which allows our FortiGate to manage the configuration and operation of the switch, and 2) Standalone mode which allows switches to be configured and managed individually or in a group via FortiSwitch Cloud.
FortiSwitch Cloud
FortiSwitch Cloud offers management capabilities that scale from individual businesses managing several hundred ports to Managed Service Providers managing several thousand. With a zero-touch deployment, FortiSwitch Cloud eliminates the need for onsite technical expertise. A cloud license key is shipped with each FortiSwitch unit. Add that key to your account, provide power and connectivity and you are able to provision your FortiSwitch. Administrators can remotely configure ports and VLANs and make individual or system wide changes with a few clicks of a mouse. Once configured, monitoring tools help assess the health of the network. If problems arise, troubleshooting commands can be run remotely, and audit logs track system and configuration changes. As your network runs, you are able to spot trends and optimize your environment.
Highlights
No-touch deployment - No onsite expertise required
Easy Provisioning - FortiSwitch
Robust Monitoring - Topology views, Port level view, Status monitoring
Optimize - Review port and PoE usage
Troubleshoot - Event Logs, Alarms and Alerts
Resolve - Make global or individual config changes
Managing the Lifecycle process for standalone FortiSwitch from network deployment to optimization can be accomplished anywhere there is an internet connection with FortiSwitch Cloud. Management is facilitated through a secure tunnel and user data is never seen by the system.

Key information at a Glance
The home dashboard provides a view of managed switches connected including clients, key usage statistics and alarms in your environment.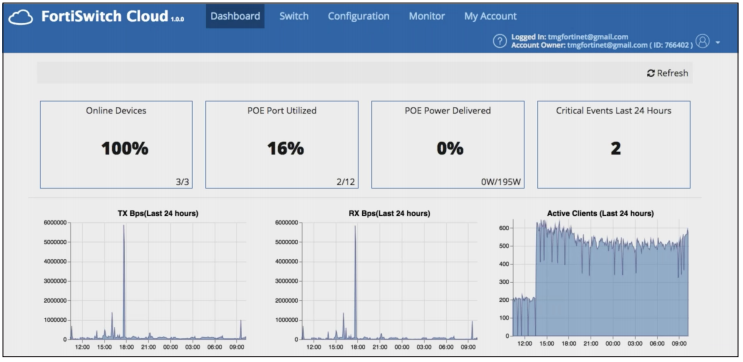 Centralized No-Touch Deployment
Network deployments can create logistical challenges including the need for skilled workers to stage and set up complex designs. Deployment is simplified with FortiSwitch Cloud. Onsite, all that is required is a person to physically connect the power and provide internet access. Each FortiSwitch ships with an individualized key allowing it to be managed by FortiSwitch Cloud. The administrator need only add that key to their dashboard and the FortiSwitch is ready for configuration. An administrator can apply a template to one or many FortiSwitch via Zero Touch Configurations or configure parameters individually through the Switch menu.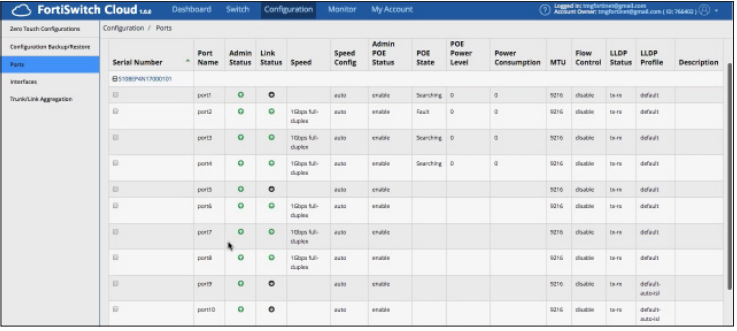 Manage
Once your system is deployed, the Switch menu provides multiple ways to view your environment including a graphical representation of the topology of your environment.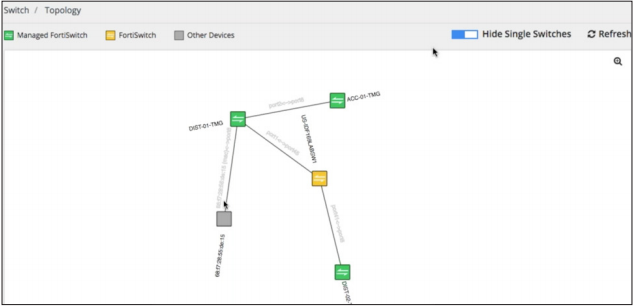 Monitor, Troubleshoot, Optimize
The Monitor menu offers valuable tools to assess activity and health of your standalone FortiSwitch network. All users and devices that have connected to a FortiSwitch Cloud managed FortiSwitch are shown by MAC address and host name when available. This data is searchable and shows what devices connected into what Each FortiSwitch requires a nominal fee, regardless of model, as outlined below. ports and vice versa, what devices connected into a specific port. System logs show alerts and alarms so you can proactively address issues. Lastly, an audit log shows all configuration changes made and by whom as issues get resolved.

Pricing Notes:
All Prices are Inclusive of GST
Pricing and product availability subject to change without notice.
Fortinet FortiSwitch Cloud
Fortinet FortiSwitch Cloud Management License FortiSwitch Cloud Management License subscription
FortiSwitch Cloud Management License 1 Year FortiSwitch Cloud Management License subscription
#FC-10-WMSC1-190-02-12
List Price: $48.00
Our Price: $47.00
FortiSwitch Cloud Management License 3 Year FortiSwitch Cloud Management License subscription
#FC-10-WMSC1-190-02-36
List Price: $144.00
Our Price: $140.00
FortiSwitch Cloud Management License 5 Year FortiSwitch Cloud Management License subscription
#FC-10-WMSC1-190-02-60
List Price: $239.00
Our Price: $233.00